On-chip Sort CONSUMABLES : MICROFLUIDIC CHIP
On-chip Sort performs cell analysis and cell sorting using a disposable microfluidic chip.
There are two types of microfluidic chips for sorting: 80μm x 80μm size channel chip for cells up to 60μm; and 150μm x 150μm size channel chip for large particles up to 140μm. The chips are fabricated in a cleanroom for spotless finish, but we also provide sterilized chips to ensure aseptic sorting.
80μm size channel microfluidic chip
| | |
| --- | --- |
| Product name | Unsterilized: 2D Chip-Z1001 / Sterilized: 2D Chip-Z1001S |
| Catalog number | Unsterilized: 1002004 / Sterilized:1002004S |
| Channel dimensions (W x H) | 80μm X 80μm |
| Quantity | 10 chips per box |
| Material | COP |
| Storage condition | Room temperature |
150μm size channel microfluidic chip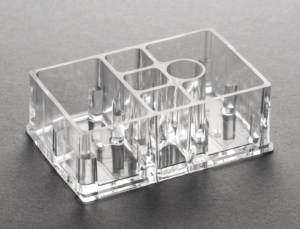 | | |
| --- | --- |
| Product name | Unsterilized: 2D Chip-Z1000-w150 / Sterilized: 2D Chip-Z1000-w150S |
| Catalog number | Unsterilized: 1002005 / Sterilized:1002005S |
| Channel dimensions (W x H) | 150μm X 150μm |
| Quantity | 10 chips per box |
| Material | COP |
| Storage condition | Room temperature |