Droplet selector and single droplet plater: On-chip® Droplet Selector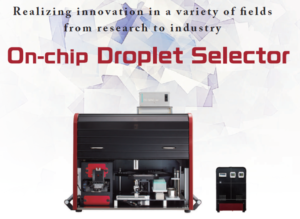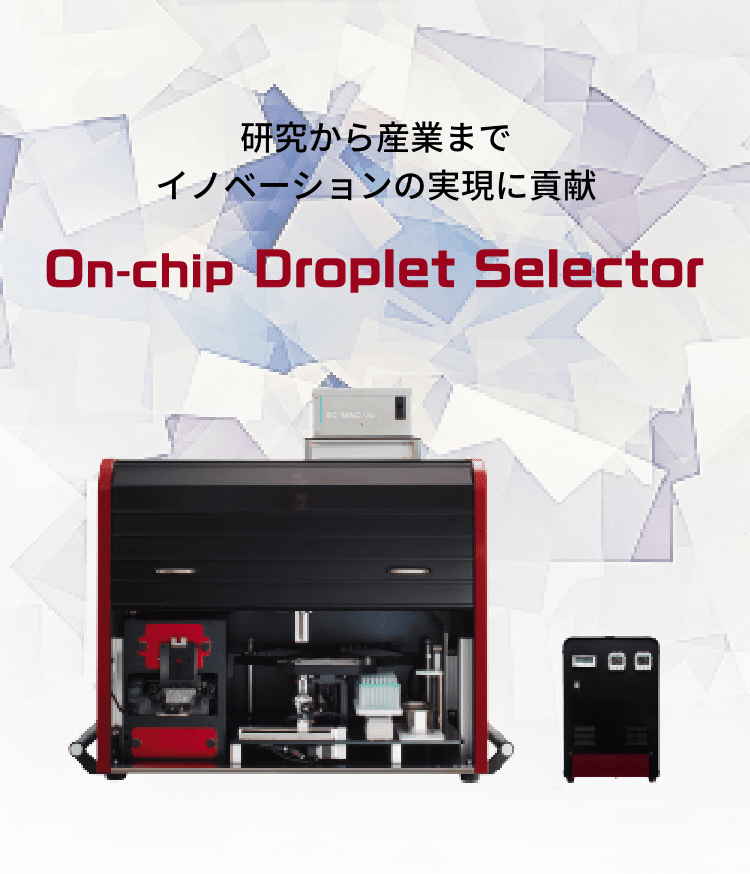 On-chip® Droplet Selector is a device that enables separation of desired water-in-oil (W/O) droplets and direct dispensing of single droplets into well plates. With conventional cell sorters, handling droplets in oil is not possible due to the difficulty in using oil as the sheath fluid and the droplets' lack of resistance to physical shock. This makes secondary analysis and isolation of droplets containing cells/microorganisms difficult. With the use of On-chip® Droplet Selector, the time and effort of droplet screening and dispensing can be greatly reduced. On-chip® Droplet Selector is useful in applications including investigation of novel microorganisms in the environment, establishment of high-producing stains and screening of antibody-producing cells.
Droplet technology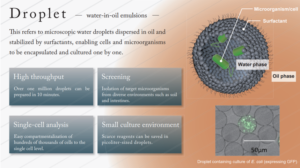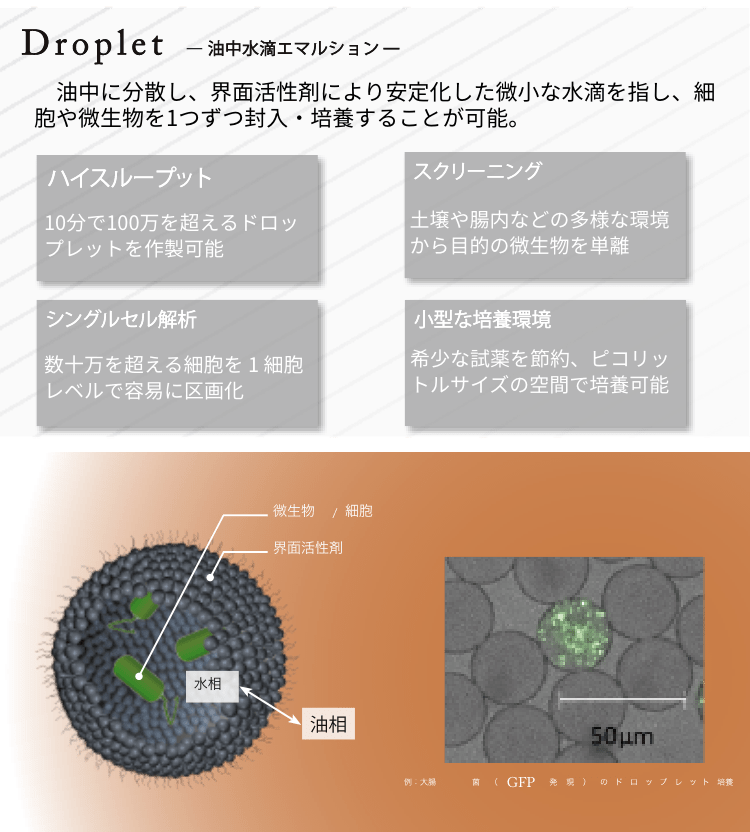 Droplets can be used in a wide range of applications including cultivation of microbial dark matter, drug screening and acquisition of mutant strains.
Workflow of On-chip® Droplet Selector
On-chip® Droplet Selector combines the sorting of desired W/O droplets with our microfluidic chip technology and dispensing of single sorted droplets into a 96- or 384-well plate. Droplets can be dispensed without breakage, with accuracy of over 90%.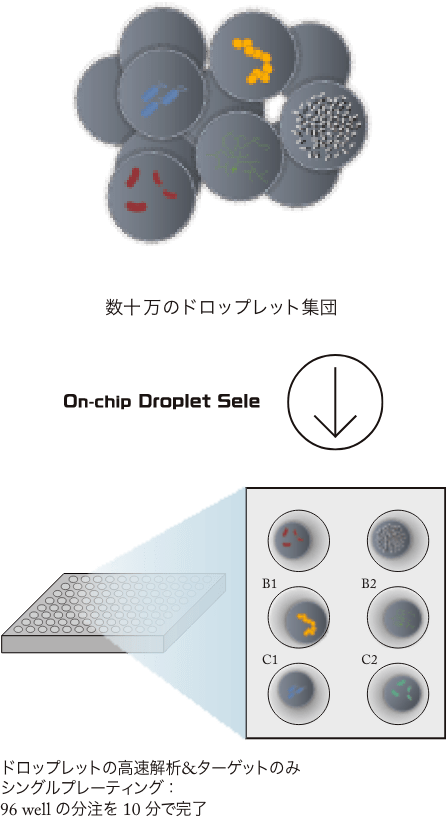 Features of On-chip® Droplet Selector
High throughput screening
W/O emulsion droplets encapsulating target microorganisms from the environment such as soil and intestines can be sorted and dispensed into a 96-well plate in 10 min.
Contamination-free and clean work environment
The use of disposable microfluidic chip eliminates the risk of cross-contamination between samples. The HEPA filter on On-chip® Droplet Selector keeps the air inside the instrument clean. The instrument can also fit inside an anaerobic chamber.
Easy operation and maintenance-free
Analysis or sorting can start in less than 5 min after start-up. There is no maintenance required as none of the sample and sheath fluid come in contact with the instrument. The microfluidic chip can be disposed after experiment is finished.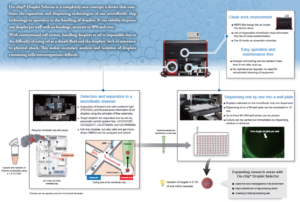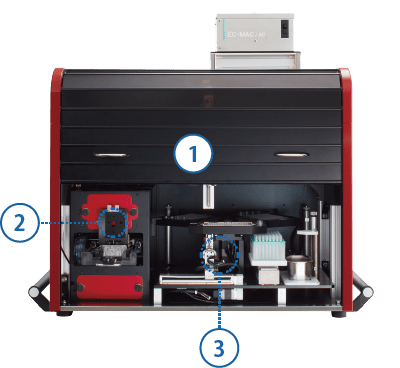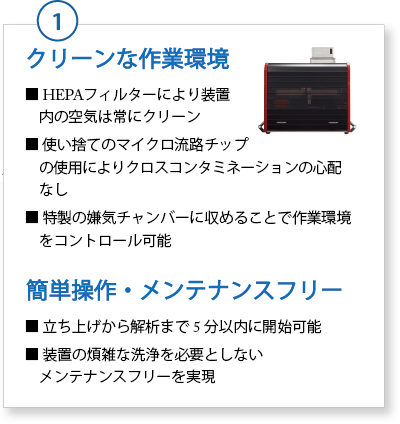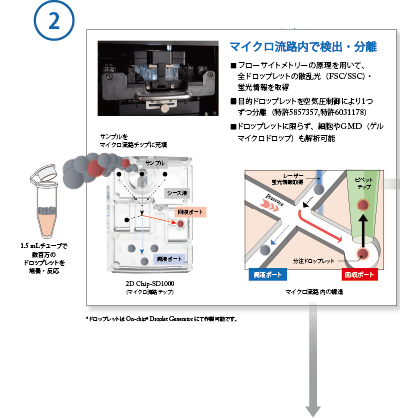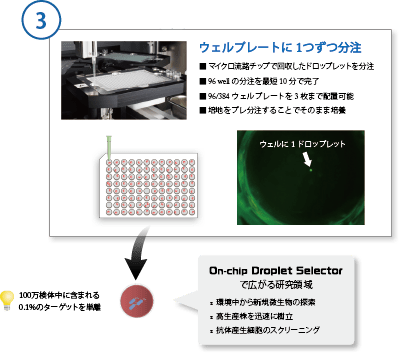 Single plating of droplets containing rhizobia
Rhizobia were encapsulated in approximately 5% of the total droplet population and cultured, and droplets containing the grown rhizobia were sorted and dispensed into 96-well plates using On-chip® Droplet Selector. After incubation in the well plate, growth was confirmed in 32 out of 45 wells where rhizobia were dispensed.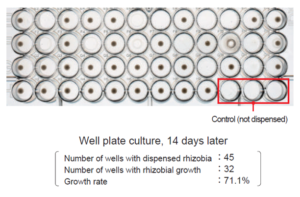 Screening of enzyme-producing microorganisms from the soil
Microorganisms collected from soil were encapsulated and cultured in droplets with substrates that react with enzymes (peptidases). As a result, various growth forms and enzyme activities of the microorganisms were observed.
Droplets showing the target enzyme activity can be isolated at high-speed using On-chip® Droplet Selector, which is expected to lead to the discovery of new microorganisms.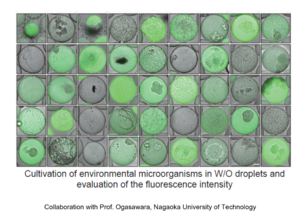 Detection of microorganisms grown in droplets
FNAP-sort (fluorescent nucleic acid probe in droplets for sorting bacteria) is a system that enables the detection of microorganisms grown in droplets.
In the cases where Escherichia coli, Bacillus subtilis, Streptomyces aureofaciens, and Bradyrhizobium japonicum were cultured in droplets, it was confirmed that growth activity could be easily detected as an increase in fluorescence intensity.
On-chip® Droplet Selector can be used for applications such as screening and culturing of environmental microorganisms, and screening of mutant strains.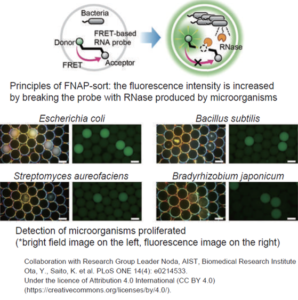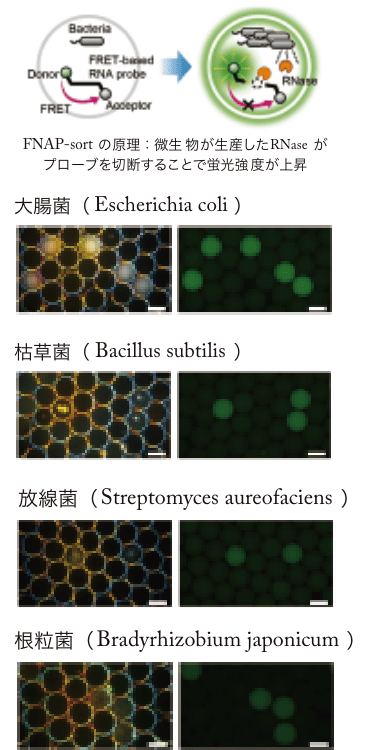 Specifications of On-chip® Droplet Selector
On-chip® Droplet Selector
Device specifications
Laser
Three lasers can be selected (405 nm, 488 nm, 561 nm, 638 nm)
Measurement parameters
Forward-scattered light (FSC), side-scattered light (SSC), and 6 PMTs
Detection wavelength
FL1: 445/20 nm, FL2: 543/22 nm, FL3: 591.5/43 nm

(607/36 nm when 561 nm laser is used), FL4: 676/37 nm,

FL5: 716/40 nm, FL6: 775/46 nm

Sample size for analysis
0.5 – 125 μm
Sorting mode
1,000 events/sec
Dispensing speed
96 well/10 min (dependent on the target ratio)
Dispensing accuracy
> 90% (dependent on the sample)
Time taken to start operation
5 min
Shutdown
10 sec (no need for cleaning)
Size (W × D × H)
760 mm × 500 mm × 800 mm
Weight
75 kg
Control
Laptop PC (Windows 10)
Power input (main unit)
AC 100 – 240 V, 50/60 Hz
Power consumption (main unit)
240 VA
Power input (HEPA filter)
AC 100 V, 50/60 Hz
Power consumption (HEPA filter)
35 W
Product No.
Product name
Specifications
Laser
Detectors
362DS001

On-chip® Droplet Selector HS

Laser 3, FS, SS,FL(6 colors)

488 nm

&

638 nm

&

405 nm

FL1,FL2,FL3,FL4,FL5,FL6

362DS001G

On-chip® Droplet Selector HSG

Laser 3, FS, SS,FL(6 colors)

488 nm

&

561 nm

&

405 nm

FL1,FL2,FL3,FL4,FL5,FL6

362DS001GR

On-chip® Droplet Selector HSGR

Laser 3, FS, SS,FL(6 colors)

488 nm

&

638 nm

&

561 nm

FL1,FL2,FL3,FL4,FL5,FL6
Consumables
Microfluidic chip
| Product No. | Product name | Materials | Microfluidic channel (W x H) | Packing unit |
| --- | --- | --- | --- | --- |
| 1004001 | 2D Chip-SD1000 | COP | 80 × 80 µm | 10 chips/ box |
| 1004002 | 2D Chip-SD1000w150 | COP | 150 × 150 µm | 10 chips/ box |
Gasket
| Product No. | Product name | Packing unit |
| --- | --- | --- |
| 40030 | Seal for Droplet Selector chips | 1 piece/box |