MICROFLUIDIC CELL SORTER : On-chip Sort
The world's first microfluidic chip cell sorter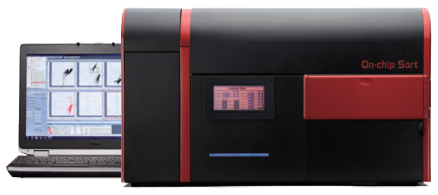 Damage-, contamination-­, and maintenance-free
Safe and high precision cell sorter with the world's first microfluidic chip technology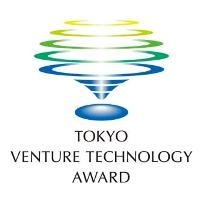 Winner of Tokyo Venture Technologies Award 2013
Our microfluidic chip­-based cell sorter has the following advantages:
"Damage­-free" cell sorting
Cells are sorted by "flow shift" method within microfluidic channels, avoiding shear stresses, pressure changes, collisions, and strong electrostatic fields which might damage or alter the cells.
Simple, sterile cell sorting with no cross-contamination
Because our sterilized microfluidic chips are disposable, cross-contamination between samples does not occur. It is small enough to fit inside a biosafety cabinet, with no generation of aerosols. This is an ideal solution for safe handling of biohazardous materials, where safety is paramount.
Sort cells in culture media
Run the sort with your preferred buffer: culture media, sea water and even oil.
Sample volume as low as 20 μL
Small sample volume (~20 μL) can be analyzed almost without dead volume. On-chip Sort is the most suitable instrument for the analysis and sorting of precious samples.
Maintenance-free and easy to use
Maintenance of On­-Chip Sort is easy. Fluids never gets in contact with the instrument, so no cleanup is required. On-chip Sort is easy to operate and does not require hours of training.
Supports 6 fluorescence channels with high sensitivity
Laser set up
Up to three lasers from Blue (primary 488nm), Red (637nm), Violet (405nm) and Green (561nm) lasers can be installed. The system has sensitivity FITC<200 MESF despite using a disposable chip as the flow cell. It has 6 fluorescence detectors and 2 scatters (forward and side).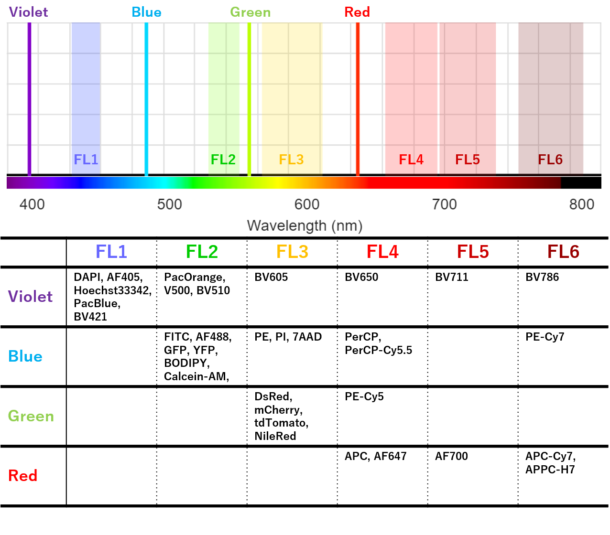 Catalog List
On-chip Sort
| Product Name | Catalog Number | Lasers | Fluorescence Detectors |
| --- | --- | --- | --- |
| On-chip Sort HS | 362S3001 | Blue Red Violet | 445/20nm, 543/22nm, 591.5/43nm, 676/37nm, 716/40nm, 775/46nm |
| On-chip Sort HSG | 362S3001G | Blue Green Violet | 445/20nm, 543/22nm, 607/36nm, 676/37nm, 716/40nm, 775/46nm |
| On-chip Sort HSGR | 362S3001GR | Blue Green Red | 445/20nm, 543/22nm, 607/36nm, 676/37nm, 716/40nm, 775/46nm |
| On-chip Sort MS6 | 262S3001 | Blue Violet | 445/20nm, 543/22nm, 591.5/43nm, 676/37nm, 716/40nm, 775/46nm |
| On-chip Sort MS5 | 252S3001 | Blue Red | 445/20nm, 543/22nm, 591.5/43nm, 676/37nm, 716/40nm, 775/46nm |
| On-chip Sort MS5G | 252S3001G | Blue Green | 543/22nm, 607/36nm, 676/37nm, 716/40nm, 775/46nm |
| On-chip Sort LS5 | 152S3001 | Blue | 543/22nm, 591.5/43nm, 676/37nm, 716/40nm, 775/46nm |
Specifications
On-chip Sort
Optics
Laser
Up to 3 lasers from 405nm, 488nm, 561nm, 637nm
Measurement parameters
Forward scatter (FSC), Side scatter (SSC), 6 fluorescence
Size sensitivity
FSC < 0.5μm, SSC < 1.0 μm
Fluorescence sensitivity
< 200 MESF FITC
Data resolution
4 decades, 18 bit ADC
Pulse analysis
Height, Area, Width
Detection wavelength
FL1(445/20 nm), FL2(543/22 nm), FL3(591.5/43 nm)
FL4(676/37 nm), FL5(716/40 nm), FL6(775/46 nm)
Fluidics
Flow cell
Disposable microfluidic chip
Chip Material
Plastic
Channel size
80 μm × 80 μm or 150 μm × 150 μm
Flow speed
500 mm/sec
Sheath fluid
Any media except organic solvents
Sample volume
20-1,000 μL
Sheath volume
4-9 mL
Analysis and Sorting
Sorting mechanism
"Flow shift" method using pulse flow
Purity
> 95% (depends on concentration)
Yield
> 80% (depends on condition)
Cell damage
No
Cross-contamination free
Yes, because of the disposable chip
Aseptic sorting
Yes
Pressure
0.3-3.0 psi
Maximum detection speed
4,000 events/sec
Maximum sorting speed
1,000 targets/sec
Start-up
5 minutes
Shut-down
10 seconds (no cleaning necessary)
Safety
Generation of aerosol
No
Size and Weight
Size (W×H×D, mm)
620 × 330 × 390
Weight
45 kg
Operating PC
PC and Software
Laptop PC
OS
Windows, 64 bit
Data format
Own format and FCS3.0
Power
Power requirements
100-240 V, 50/60 Hz
Power consumption
< 240 VA