SINGLE CELL DISPENSER : On-chip SPiS
Gentle, automated and accurate single cell dispenser

On-chip's Single Particle isolation System (SPiS) enables accurate dispensing of single to multiple particles into wells of 96- and 384-well plates.
Dispensing technology
The operation of On-chip SPiS is straightforward. It has an inbuilt auto-dilution function to adjust the sample to its optimal concentration. A very small aliquot (<0.3 µL) of the sample is aspirated by a dispensing pipette tip. CCD camera counts the number of cells present inside this aliquot by image recognition. When a specified number of cell(s) is detected, the aliquot is dispensed out into a well of a 96- or 384-well plate. Otherwise, it is dispensed back into the sample tube (or discarded if necessary), and the instrument repeats this process until the number of cell(s) match the specified cell count. On-chip SPiS ensures that almost every well contains the desired cell number. On-chip SPiS can plate single cell per well accurately and easily.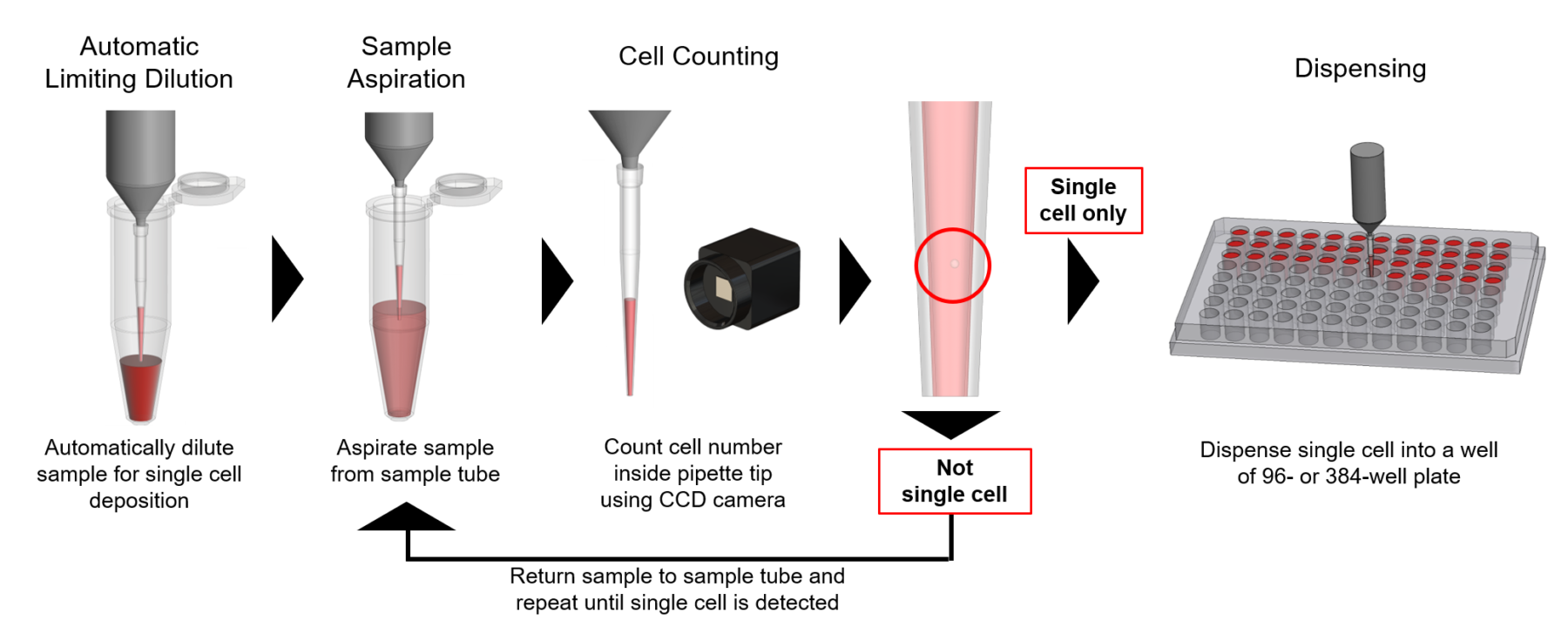 Features
Dispensing of small to large particles
On-chip SPiS allows dispensing of particles sized between 7 µm and 200 µm.
Compact and easy operation
On-chip SPiS is small enough to fit inside a biosafety cabinet and it is easy to operate.
Inbuilt auto-dilution function and CCD camera image recognition
Concentration determination and automatic dilution program adjusts the sample to optimal concentration without having to do a complex dilution calculation. Cells within the pipette tip are counted using a CCD camera for accurate single cell deposition into wells.
Freedom of Buffers
Any buffers of your choice can be used, such as water, culture medium and oil.
Specifications
Product Name: On-chip SPiS
Catalog number
70001
Device configuration
Main unit, control PC (Windows)
Instrument size
610mm x 365mm x 450mm (W x D x H)
Dispensing method
Disposable pipette tips
Recognition method
Image recognition by 5 megapixel CMOS sensor camera
Dispensing volume
0.1~0.3μL (adjustable)
Sample
Cells, pollen, protists, cell clusters, microbeads, etc.
Recognizable sizes
7-200μm (confirmed with cells), >3μm (microbeads etc.)
Dispensing accuracy
>90% (depends on sample)
Biosafety
Fit inside a biosafety cabinet
Damage
Low damage to cells etc.
Sample agitation
Automated resuspension by disposable pipette tips
Buffer
Water, culture media, sea water, etc.
Handling speed
60 min/96 wells and 200 min/384 wells (Reference time only. Depends on sample conditions)
Supported well plate
96 and 384 well plate
Consumables
On-chip SPiS dispensing tips
Sterile dispensing pipette tips designated for On-chip SPiS.
| | |
| --- | --- |
| Product name | Chip-384S |
| Catalog number | 1007001 |
| Quantity | 384 tips per pack |
| Material | Polypropylene |
| Storage condition | Room temperature |